Fred Miranda's Plugins
Practical, and useful tools that save time
I am not one to use plugins much in Photoshop. Usually, you can accomplish all the same
things in Photoshop without purchasing some addtional plugin software - if you know the
steps to take. Fred's plugins are singularly practical, and useful. In a nutshell they save time,
and are superior to the results you can do in Photoshop. In my book, that is high praise. I've
come from a past of the vastly over used Kai Krause's power tools, and his host of other
plugins, as well as the also overly used (in advertising) Alien Skins line of plugin products.
Today, there exist others in this same genre...like Flaming Pear etc. I really like how these
work well in actions that I write. I use Photoshops action scripting all the time to save time
in post processing, and imaging repetitive tasks. In this review I will cover 4 of Fred's best
plugins.
SI (Stair Interpolation") Pro v2.5
This is an absolute favorite of mine. When you want to resize an image - this is the way to get the absolute best
image quality possible. I use this very often within action scripts in Photoshop. I've tried CS4's image size (both
bilinear, and bicubic interpolation) and fit image. In my opinion, Fred's SI v2.5 Pro does a better job of it.
somehow, it preserves more details, and sharpness. It also is reported to do a better job than other dedicated
resizing products like Genuine Fractals. You can read more about SI Pro v2.5 here....



FM Digital Darkroom
BW Workflow Pro Plugin v1.5.1
Another favorite plugin of mine is Fred Mirandas BW Workflow Pro. This is a very very configurable plugin to
create excellent black and white conversions of color images. I does duotones, tritones, quadtones, and has
all kinds of combinations of effects to get just that right conversion. Want just the right shade of sepia? How
about the perfect selenium tint...any kind of toning is possible with this plugin. It looks like Fred has updated
this one since I got mine...hmmm, "Digital Infrared" as well as updates to the preview - I may need an update.
In its default mode it produces a wonderful slightly warm tone with good shadow detail preservation. It reminds
me of Ilford's poly contrast paper - which was my favorite. Read more about this practical plugin here....



FM Digital Darkroom
Velvia Vision v1.5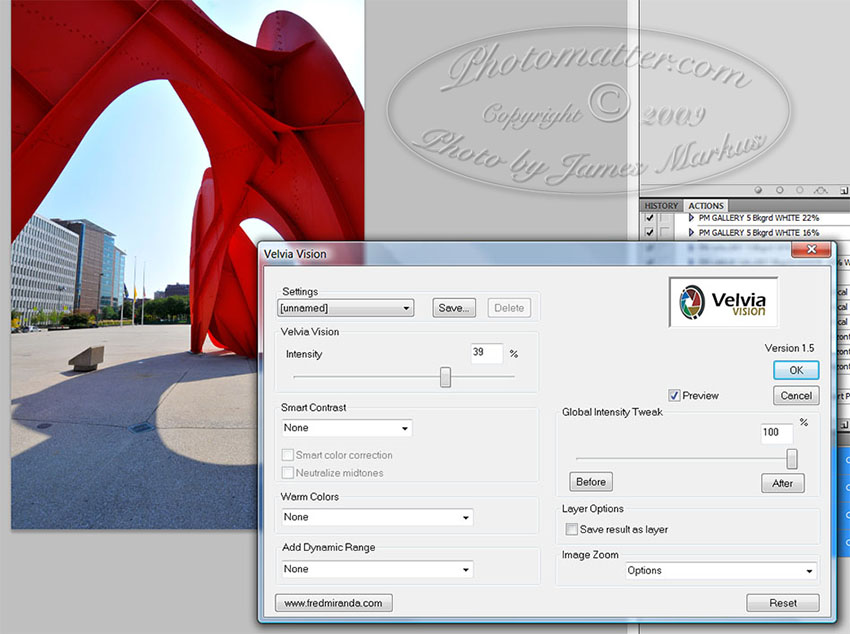 I was a velvia 50 addict. I loved that film, and loved to print it on cibachrome. If you try and use just saturation to
pump up the colors in photoshop - the colors will bloom (for lack of a better term). This plugin lets you get that
super saturated look so distinctive of Velva film, without causing damage to the file. It gets closer to
the true Velvia look than most plugins in this genre that I have tried. Read more about this plugin here....



FM Digital Darkroom
Intellisharpen v2.5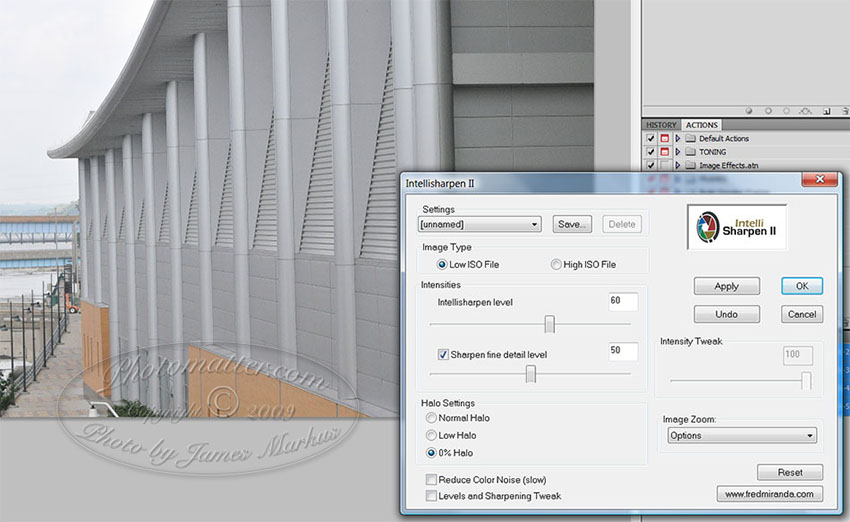 This is another great plugin from Fred. I do have sharpen luminance actions I wrote myself, but Fred's is so
easy to use, and configurable that I use it more often than my own. I particularly like the haloless option. It
is way better than USM, and better than Photoshops smart sharpen. Read more about it here....



FM Digital Darkroom
RETURN to Photomatter Home Page >
RETURN to Photomatter Review Home Page >