This is the view from the stage of the main auditorium of the State Theatre in Sydney Australia. The massive space is
approximately 300 feet long x 150 feet wide x 50 feet high. Other than the main floor seating area it has two stacked
balconies for a seating capacity in the thousands. The decor is a blend of classical, neo classical, art-deco, nouveau,
This is the largest chandelier in the southern
hemisphere, and the world's second largest.
It contains 20,000 individual pieces of crystal.
The annual cleaning takes days to accomplish,
and it is lowered from the ceiling of the main
auditorium by a winch. It is reported to weigh
4 tons, or 8000 pounds, and is the size of a
medium sized commercial truck.
It is kind of an insult to refer to these two items as light fixtures,
but that is the function they both serve on either side of the
stage. Each female figure is 6-8 feet high, and are holding
a large 3-4 foot light fixture. There are mirror versions
both stage right and stage left.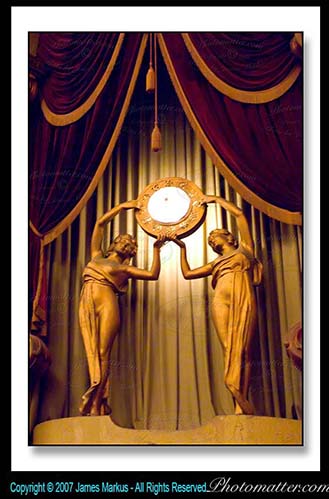 During World War II the State Theatre became a news outlet
of sorts. People lined up to watch the latest Movie Tone
news reels to get information on the war.
<
Bandleader Will Prior performed on opening night. "The

Patriot" was the first movie ever shown at the State

Theatre. It was accompanied with the playing of the

mighty Wurlitzer organ by Price Dunlavy. The

Wurlitzer use to corkscrew out of center stage.